Collaborative print projects are my favorite type of project to take on. The process can unfold in countless ways, but essentially if you'd like to make a silkscreen print and you aren't a silkscreen printer, we make one together. I guide you through making color separations, then print them for you.

I'm currently printing out of Pullproof Studio in Pittsburgh, NY, and in-person projects are often the easiest and most rewarding, but it's possible to work things out long distance as well.

If you think this is for you but have some further questions, email me!
matt.vanasselt@gmail.com

And please scroll through for some examples of how past projects came together.
Branden Koch

Companions of Fear

9 colors
20"x28"

Edition of 30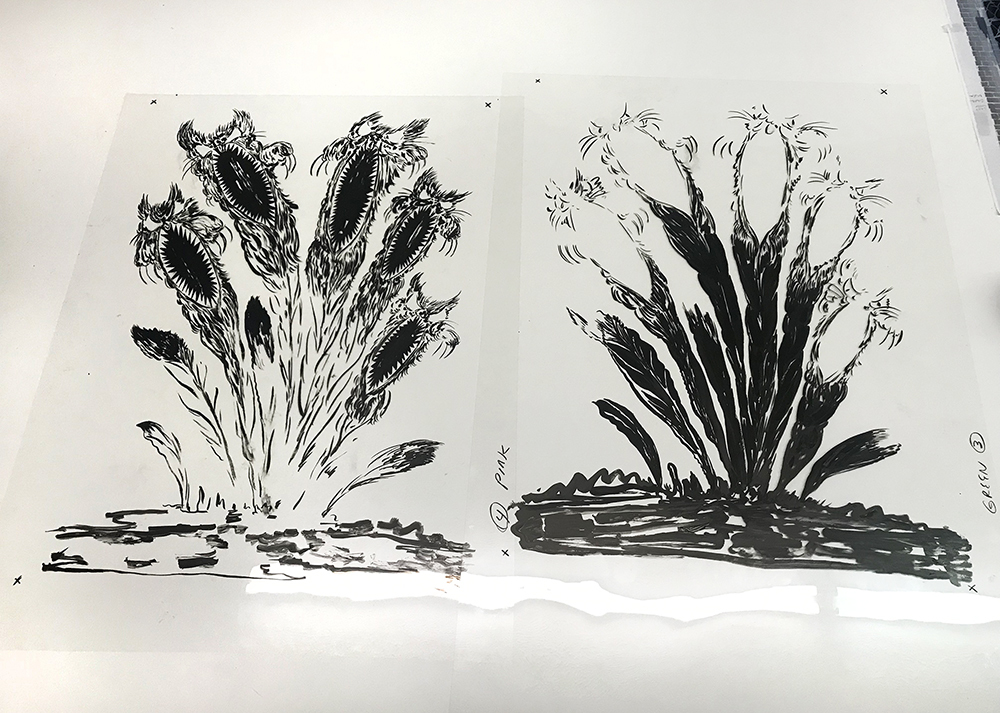 Branden came into the studio with nothing but an image on his phone of a painting he wanted to make a new version of. We mapped out a rough color plan, decided which color would give us the most information and was the best starting point, and he dove into making a sketch. 10 minutes later the first separation was ready to go, and we took it layer by layer, Branden drawing each subsequent layer off the print as it was printed.
Natalie Westbrook

Levitate

11 colors
20"x28"

Edition of 20
Natalie wanted to build this print intuitively, intentionally not sketching or making any preporatory plans, just referencing some existing paintings to get a sense of the overall arc the print would follow.
Theo Ellsworth

Timrick

6 colors
19"x25"

Edition of 75
Theo already had an understanding of silkscreen printing and how he liked to translate his drawings into prints, so for this one he drew all of the separations up front and mailed me them. We worked out the colors, and this fellow came to life.
more..